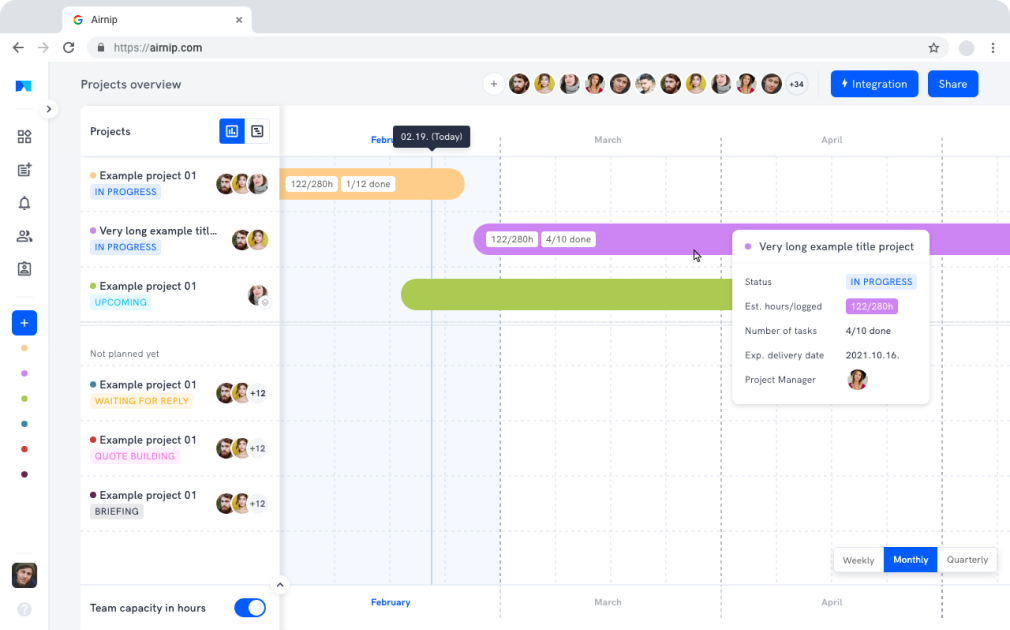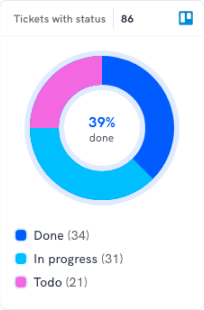 T

h

e

A

g

e

n

c

y

O

p

e

r

a

t

i

n

g

S

y

s

t

e

m
Your new workflow and resource management system is ready to provide an end-to-end frame to your agency life. The full horizon of your agency is right in front of you.
Airnip in action
Airnip handles all the agency processes in 6 steps to guarantee the most effective all-in project delivery in time.
Take client brief
Request quote from contractor
Get estimations from teammates
Plan capacity and timeline for project
Insights to help you keep project on track
Time spent vs. Estimate
Check agency's health on a single dashboard
Better results for future projects based Airnip recommendations
Smart is the new easy
Working in an agency can be complicated. We know, we've been there. So we have made things easier, for all of you agency folks. We dreamed about developing an essential working tool and we successfully achieved it. Every process has been effectively and transparently integrated into Airnip, just like your operating system on your computer. Sounds cool? We've made this possible. For you and your whole agency.
The agency operating system A-Z
All the features you'll ever need. Handle everything with one tool from the kick-off of the project up until completion!
The full horizon of your agency is right in front of you. Get complete transparency in the palm of your hands! Start making decisions based on data, not only your intuition! KPIs / participants / capacity / status / finance / sales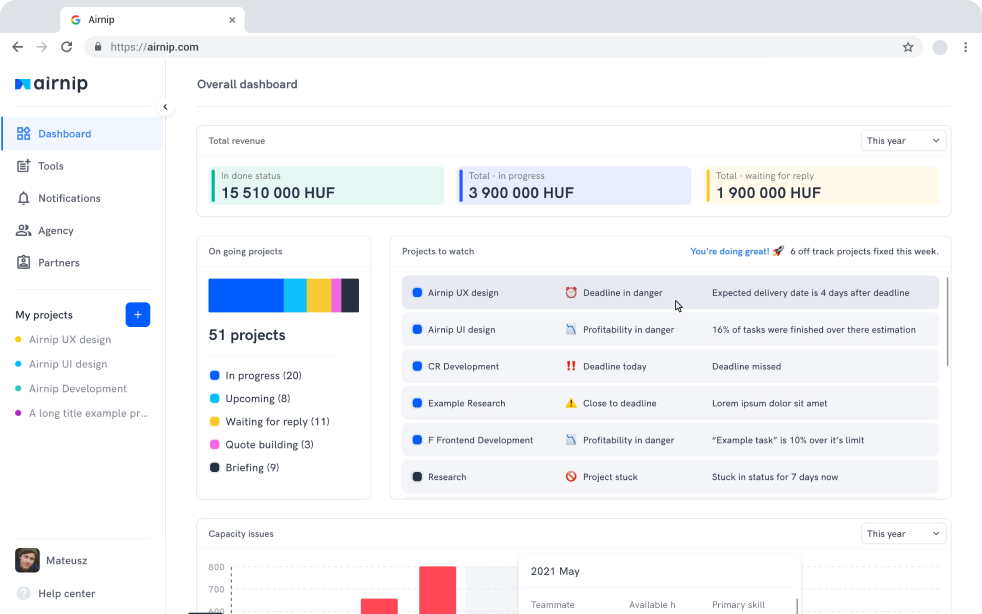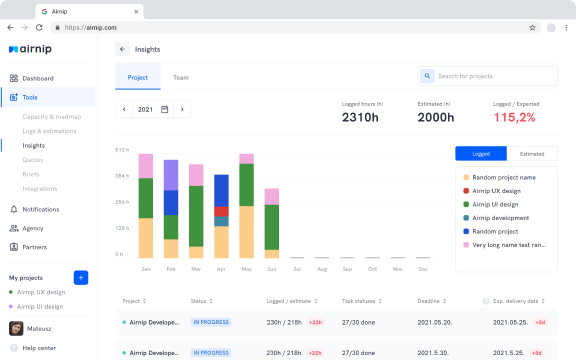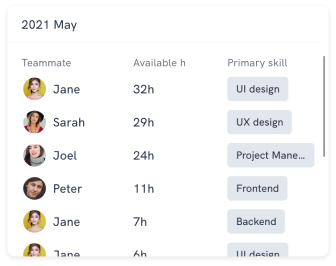 Speak the same language with your team: we provide templates from experts. Make sure everybody's on the same page!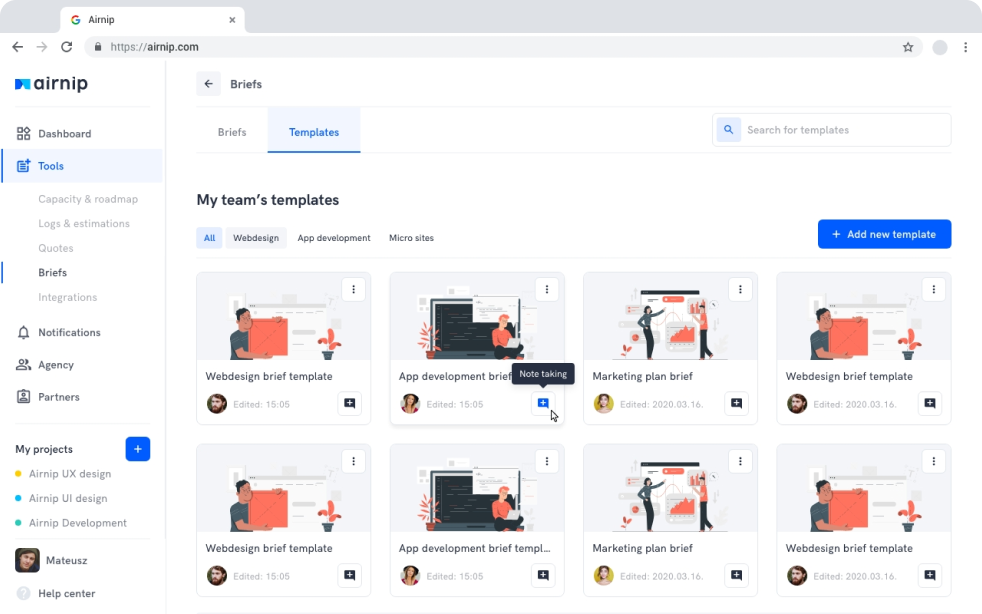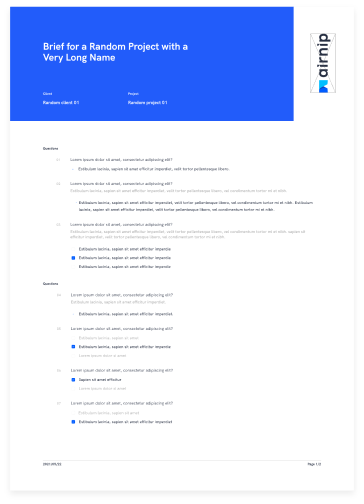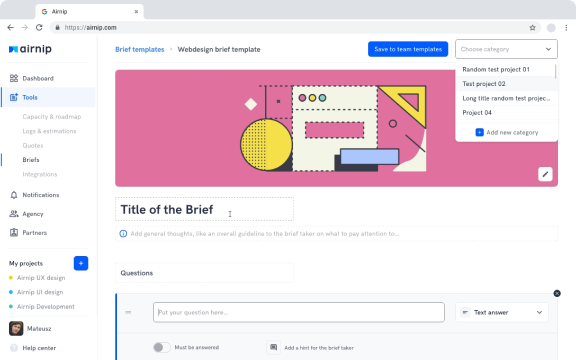 Collaborative quote building
Give next level quotations to your clients based on estimations from team members and get offers from sub-contractors.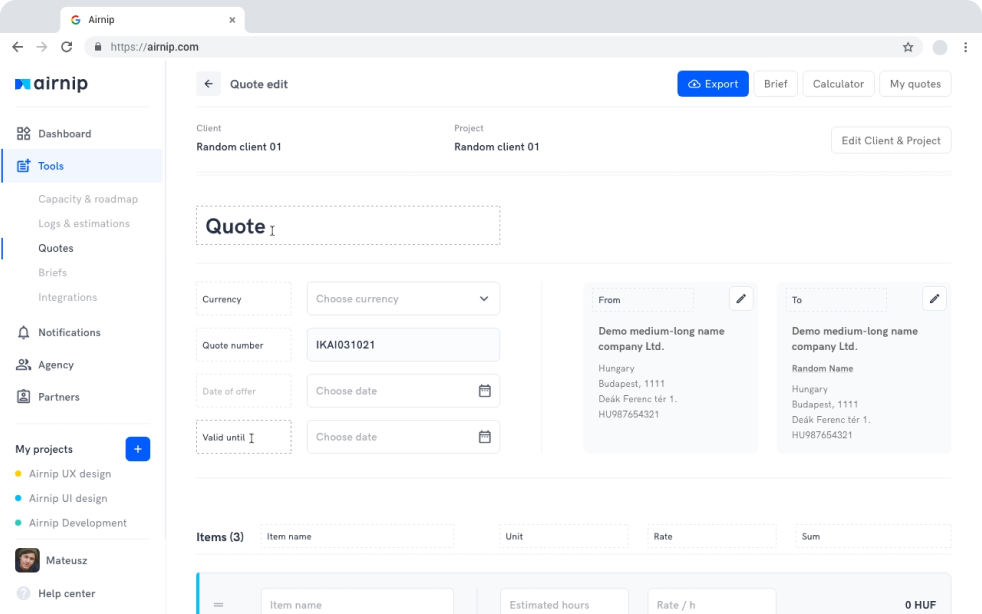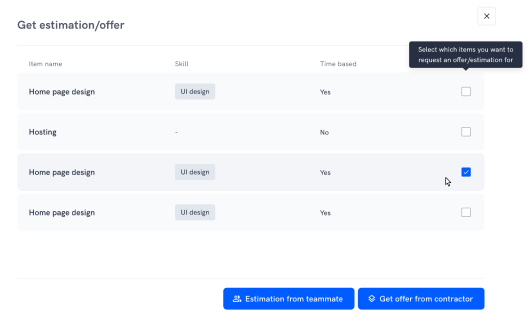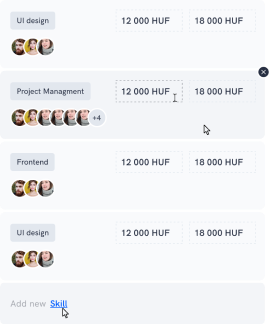 Plan your project's roadmap based on your quotation!The estimates from your quote will be imported automatically to monitor your commitments and hours easily.
Transform commitments automatically into tasks!
Adjust tasks on the timeline!
Allocate resources & dedicate collaborators!
Balance capacity based on estimations! Find when your teammates have available hours!
Conditional teammate booking - for upcoming potential projects.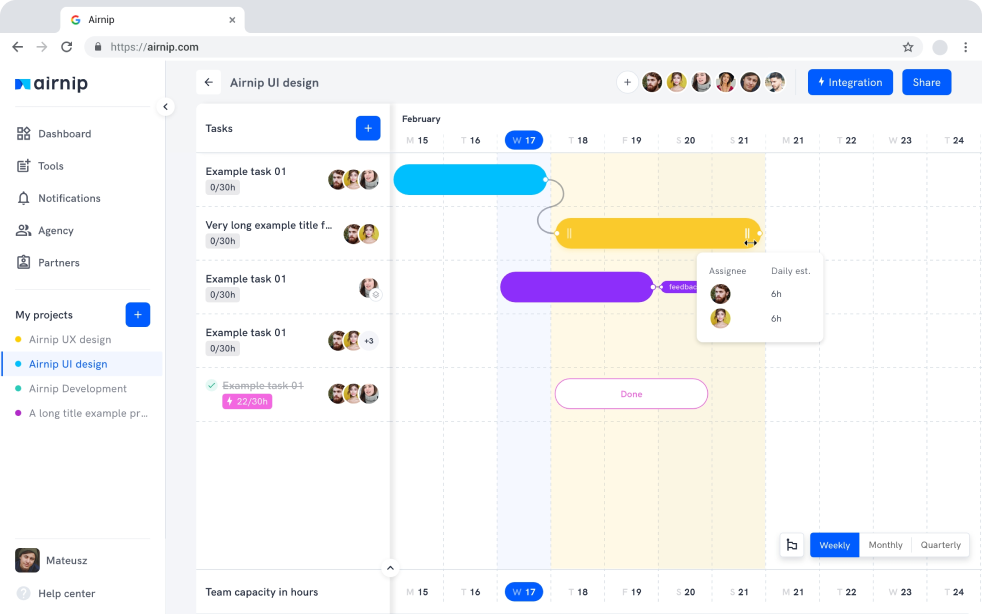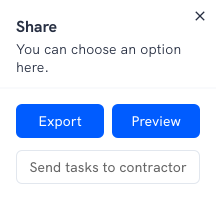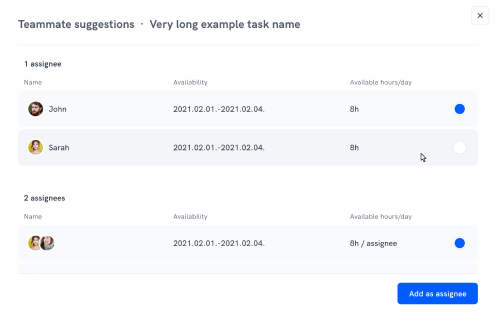 Monitoring & time tracker
Create goals and milestones by tracking your work to stay on top of deadlines, resources, and expected profit! Log time with the intelligent tracker tool and compare it with estimations!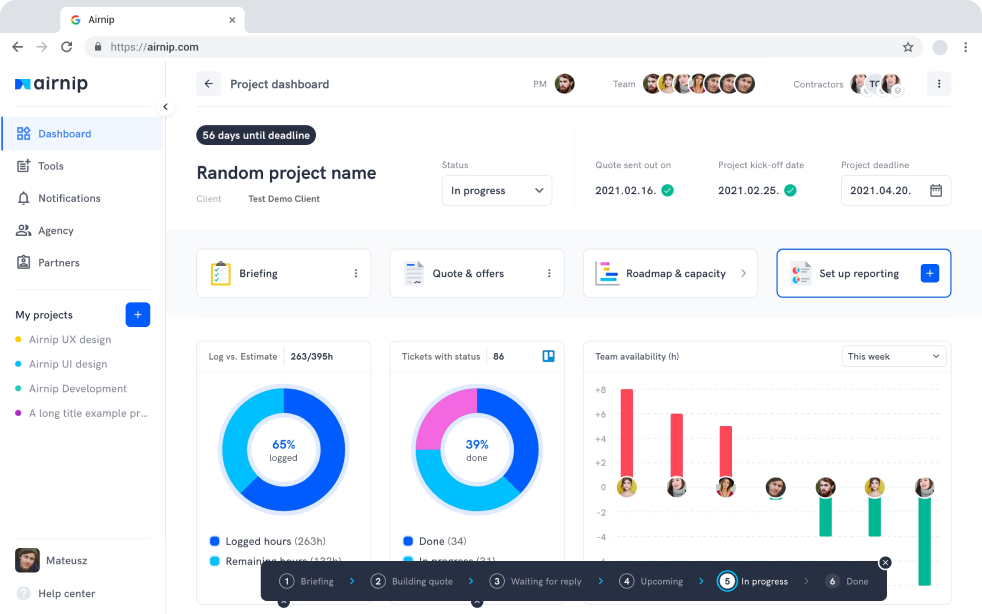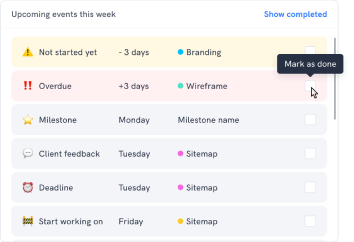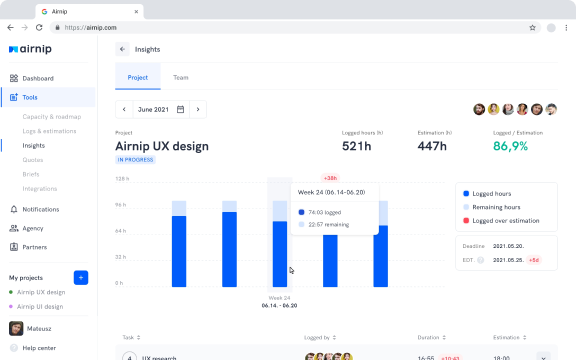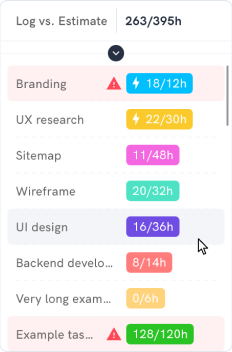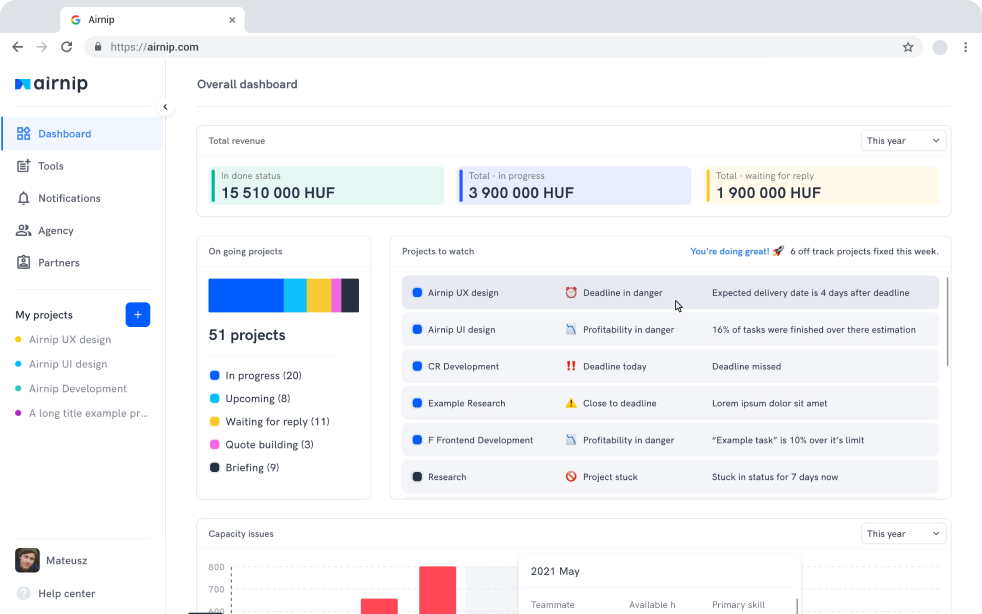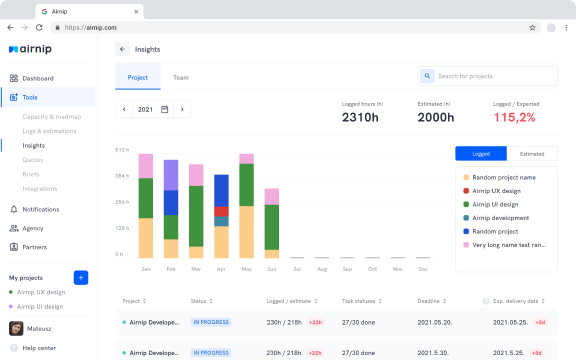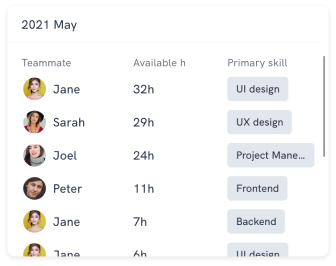 The ones who already got their work in flow
"Whoever made this software was an experienced agency worker, with real in-depth insights."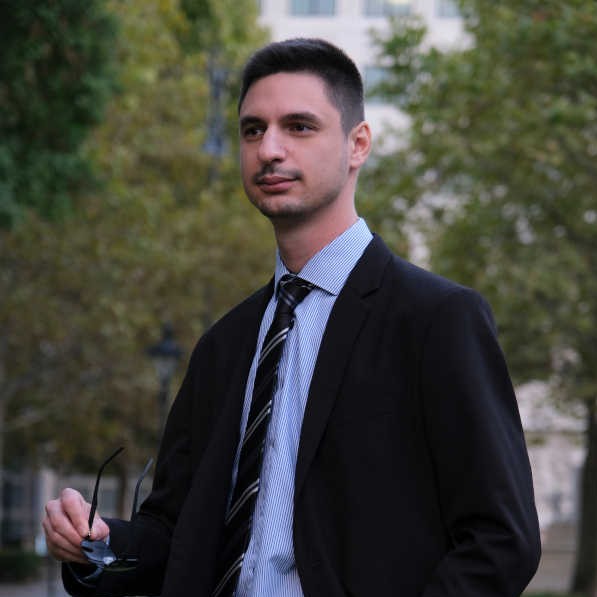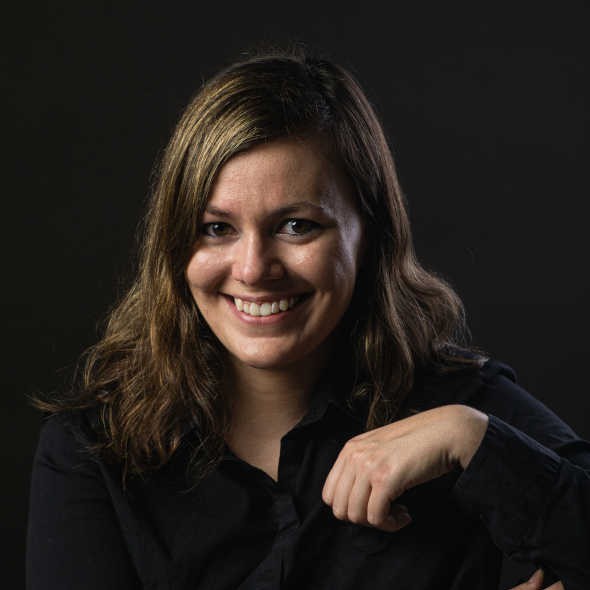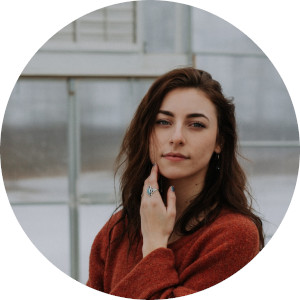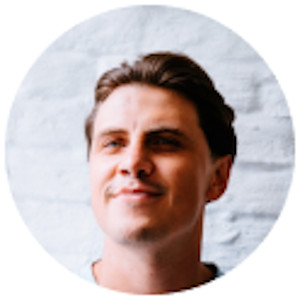 "The tasks and goals are finally clear for all, it's great to see all important deadlines on a single dashboard."
Linda Darnai — Project manager
"We have reached full transparency with the agency dashboard, I can finally see the availability of my teammates."
Jamie Chappell — Creative Director
"The tasks and goals are finally clear for all, it's great to see all important deadlines on a single dashboard."
Linda Darnai — Project manager
"We have reached full transparency with the agency dashboard, I can finally see the availability of my teammates."
Jamie Chappell — Creative Director
Book a demo
Let's schedule a call, where we will walk you through the software.
No credit card requied for start.
Questions and answers
The Answer to the Ultimate Question of Life, the Universe, and Everything about Airnip.
Airnip is a workflow and resource management system for Agencies. Airnip channels all the necessary processes into one place:
briefing,
quote preparation,
capacity planning,
project planning and monitoring.
We provide managers with a tool that gives them a comprehensive picture to make strategic decisions along with functionalities to plan and monitor projects in a single software.
What kind of agencies is Airnip for?
Pretty much any service providing agency working with human resources:
Digital agencies,
Creative agencies,
Software developer agencies,
UX/UI agencies,
Graphic design agencies,
Marketing agencies,
Public relations agencies,
BTL agencies,
Business Consulting,
Engineering agencies,
Architecture firms,
Other service businesses.
Do I need to have the whole team register to manage my agency in Airnip?
No, you can add team members without inviting them so you start planning with their resource in Airnip.
Is there a free version of Airnip?
Airnip does not hold a free version currently, nevertheless if you sign up for Airnip in the month and invite your team members they will be able to enjoy our Mike Tyson plan for a whole year, which means you and your agency are able to save up to €180. We offer 3 types of plans with different features:
Middleweight is the most basic of our 3 plans, it's simple to use and perfect for smaller agencies. Middleweight offers capacity for 15 users maximum, 5 active Roadmaps, 5 Quotes and Briefs per month plus the package includes 5 customized Brief Templates. The number of Clients and Contractors is unlimited.
Heavyweight is the golden solution for middle sized agencies. It can be used by up to 25 users, and unlocks 10 more new Roadmaps and Briefs per month with the extra benefit of unlimited Brief Templates.
Choose our Mike Tyson plan to unlock all the possibilities of our software. Enjoy the advantage of unlimited users and access to unlimited new Roadmaps, Quotes, Briefs and Brief Templates.
Do I need to submit my card details to start my trial?
No, no credit card is required to register and see if Airnip fits you.
How much does Airnip cost?
The "
Middleweight
" plan starts from €8 per month per user and the price of our other plans go up from there based on your chosen plan and team size. The "
Heavyweight
" costs €10 per user per month with the addition of more users and more features. The "
Mike Tyson
" plan is €15 per person per month and you can enjoy the benefits of unlimited features.
Can you pay for Airnip monthly?
Yes, you can pay monthly for your account. Choose the monthly option on the
pricing page
and you will be able to pay on a per month basis. The monthly plan is not discounted so if you are looking to save, we recommend the yearly plan.
Which pricing plan is right for me?
We understand that each organization is unique, requiring a different number of seats, projects, briefs and quotes to support its workflows. Above you can see the limitations included in the different plans to support your needs. If you need help in choosing the right plan for you or reach out to our
sales team
.
Is there any person I can reach out to for help?
Yes, of course. You can contact us through our chat support or via email (
[email protected]
). If you are looking to get a demo you can book one here, where we walk you through the software and answer your questions.
The security of our customer's data is our top priority. We use high physical, procedural, and technical security measures to preserve the integrity and security of your data.
What payment methods do you accept?
We accept the following payment methods: All the major credit and debit cards - Visa, Master Card and American Express. Feel free to reach out to
[email protected]
for more information.
Is there a way for Airnip to help get my team on board?
Yes of course, we can help you set up Airnip (import your projects, contractors, clients to the system, team members). On top of that we can help your team to get a grasp of Airnip's features by walking them through the software.
Change how your agency works... forever.
Try for Free
or
book a demo
. No credit card requied for start.